Local subspecies: nominate, distributed in E Brazil. RPPN Mãe-da-lua.
Called Ochre-lored Flatbill by Ridgely and Tudor 2009. Taxonomic status debated, with one or more splits suggested by some authors.
Synonyms:
Muscipeta flaviventris
WIED 1831
.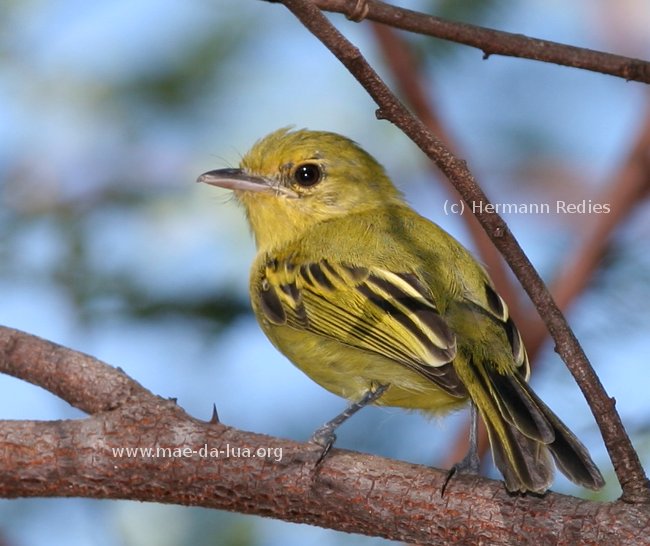 13/07/2008; Mãe-da-lua reserve, Itapajé, Ceará, Brazil. 300 mm f2.8 lens.
Figure 1. The Yellow-breasted Flycatcher is abundant in arboreal Caatinga, Cerrado, and other habitats, including gardens. But it is not well known to the rural population, and I am not aware of any commonly used vernacular name. None of the locals that sometimes work at the reserve, was able to identify its frequent and loud calls. This lack of attention means actually good news: birds which are not edible, which are not good as cage birds, and which are not even noted, have better chances of survival.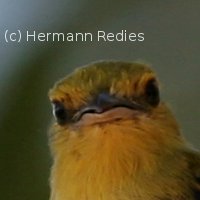 Apart from "Yellow-breasted Flycatcher" (SACC), the name "Ochre-lored Flatbill" is also in use (Ridgely and Tudor 2009). The small foto to the right has been taken in poor light, but depicts the ochre lores better than the larger fotos in figs. 1 and 2. Note also the broad bill ("Flatbill"), and its colors: maxilla dark, mandibula clear.
To top of page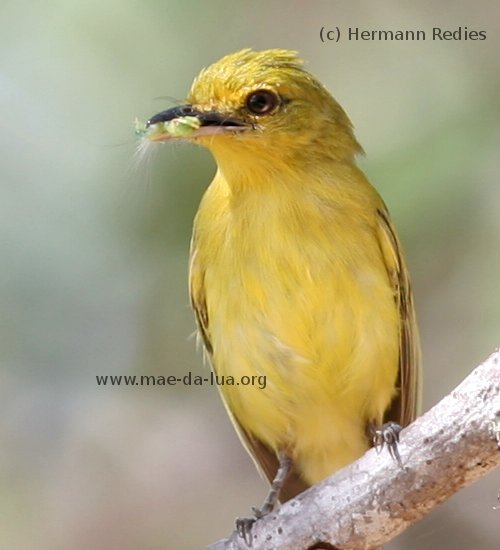 15/05/2010; Mãe-da-lua reserve, Itapajé, Ceará, Brazil. 300 mm f2.8 lens.
Figure 2. This Tolmomyias flaviventris carries food for his offspring. But it seems to be scared by me or my camera, and does not enter directly into the nest (shown in fig. 3). Instead, it perches on a tree branch nearby, to check the situation. A good oportunity for a picture.
To top of page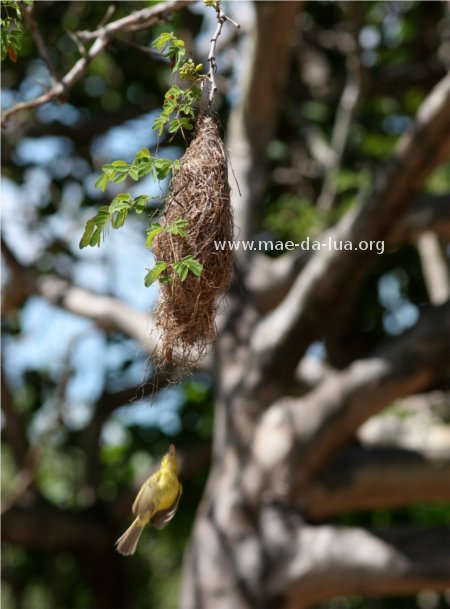 15/05/2010; Mãe-da-lua reserve, Itapajé, Ceará, Brazil. 300 mm f2.8 lens.
Figure 3. This nest of Tolmomyias flaviventris was hanging on the branch of a Jucazeiro tree (Caesalpinia ferrea) in front of my house in Mãe-da-lua reserve, about 2 meters from my veranda. I watched every day while the nest was being built, and later took pictures (see also fig. 2) of the parents bringing food to the offspring. The nest has a tunnel-like opening at the bottom. The birds approach the nest from below (photo), and fly directly, and very fast, into the entrance. Within a fraction of a second, they disappear in the nest. They leave it by letting themselves drop out of the opening.
The nest turned out to be quite durable. A year later, long after its occupants had left, it was still there, and I saw a pair of Yellow-breasted Flycatchers (same individuals?) inspecting it. They did not re-use it, but maybe, they recycled some of the building material. In any event, the whole Jucazeiro tree did fall over soon thereafter, and that was the end of the story.
To top of page