Local subspecies: Thalurania furcata baeri, distributed in NE and central Brazil, and parts of Amazon, Bolivia, and Argentina. According to Schuchmann 1999a, there are intergrades between baeri and other subspecies of Thalurania furcata, where their ranges meet.
Synonyms: Trochilus furcatus  GMELIN 1788;  Thalurania furcata baeri  HELLMAYR 1907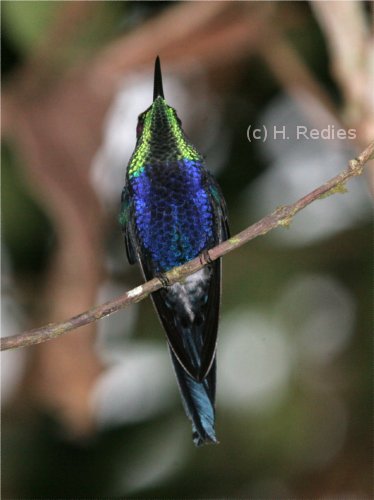 12/01/2010; Guaramiranga, Ceará, Brazil. 300 mm f2.8 lens. Flash light.
Figure 1. I saw this Fork-tailed Woodnymph sitting in a bush, at the end of the afternoon, in dim light. It looked entirely black, and I was quite surprised when I first saw its colors on this photo, which was made with a flash-light.
The green throat and the blue breast and belly indicate that this Thalurania furcata is a male. Based only on the above photo, it it not possible to determine the subspecies. A comparison with table 23 in Grantsau 1988 shows that it must be either baeri (Grantsau, fig. 6) or balzani (Grantsau, fig. 4), because of the white crissum and undertail coverts. However, the difference between these two subspecies is the color of the face, which is not visible on the photo. Classification was therefore based on the locality, which lies in the range of baeri. Admittedly an error-prone approach.