Based on location, the subspecies is probably the nominate taxon Sublegatus modestus modestus.
Synonyms: Muscipeta modesta  WIED 1831.
Habitat: In Floriano in Piauí, I saw these birds several times in secondary cerrado vegetation. In Ceará, the register was made in an area with a few scattered trees and high grass, in the vicinity of secondary arboreal Caatinga.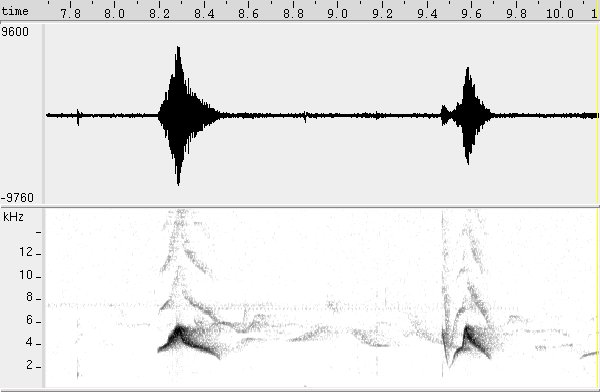 05/11/2010, 05h27. Floriano, Piauí, Brazil. h1380. (c) H. Redies.
Sound h1380.
Series of calls of the Southern Scrub-Flycatcher. The sonogram shows calls of two different types, which alternate in the series.
A similar recording by Glauco Pereira (07/02/2006, from Pernambuco) in Minns et al. 2010 is labeled as dawn song.
03/02/2009, 06h25. Fazenda Canaã, Pentecoste, Ceará, Brazil. h602. (c) H. Redies.
Sound h602.
Vocalizations of
Sublegatus modestus
, recorded in Caatinga farmland. The bird was not well seen, and the identification is not 100% certain.
This register is outside the known range of the Southern Scrub-Flycatcher, as defined in the distribution maps of Robbins 2004 and Ridgely and Tudor 2009. However, the map of wikiaves registers is compatible with my observation.