This monotypic species is endemic to northeastern Brazil. RPPN Mãe-da-lua.
Synonyms: Loxia albogularis  SPIX 1825;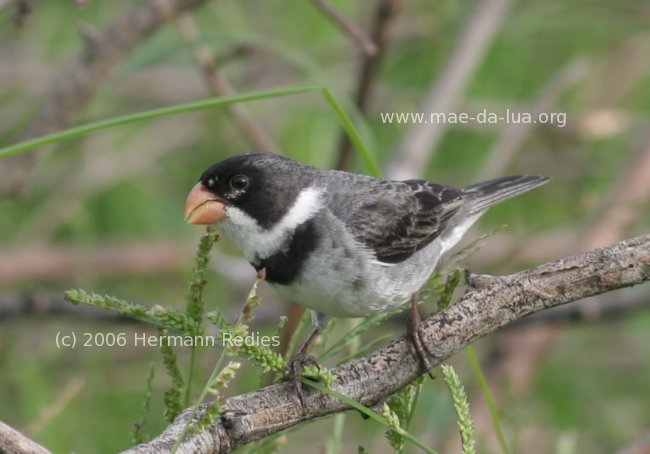 06/04/2006; Fazenda Canaã, Pentecoste, Ceará, Brazil. 200 mm f2.8 lens.
Figure 1. The White-throated Seedeater is a bird of open grass- and bushland. It is one of the favorite cage-birds of NE Brazil, and has consequently become rare in many regions. However, in Fazenda Canaã in Pentecoste, the situation was different. Years before I bought this farm in 2001, trapping had already been forbidden by the previous owner. I continued with this protective measure, and as a result, the White-throated Seedeater was a really common occurence in Fazenda Canaã. I sold the farm in 2006, and I don't know what the actual status of its Sporophila albogularis population is.
To top of page
14/11/2005; Fazenda Canaã, Pentecoste, Ceará, Brazil. 200 mm f2.8 lens.
Figure 2. Male individual, picking up seeds in front of my hide, only a few feet away from my camera.
The bird exhibits a small white loral or infraloral patch, and an even smaller white supraloral patch. These tiny plumage details are actually characteristics of the species: the other males I photographed, and the figure in Ridgely and Tudor 2009, plate 108/7, show the same pattern.
In NE Brazil, the male Sporophila albogularis can hardly be confused with other species. The females, on the other hand, look similar to the females of Sporophila lineola, which is also resident here.
To top of page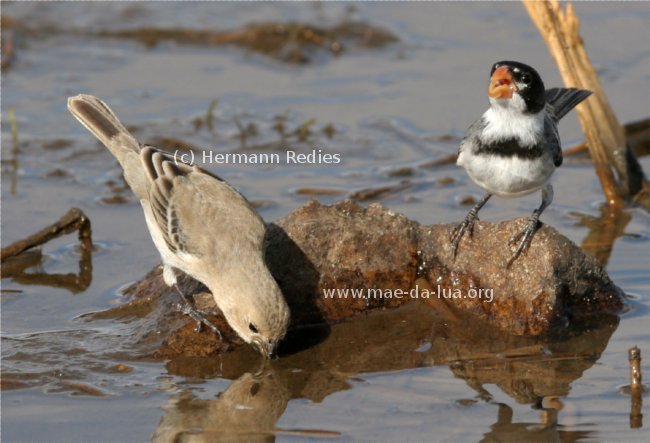 15/10/2008; Mãe-da-lua reserve, Itapajé, Ceará, Brazil. 300 mm f2.8 lens.
Figure 3. Without question, the White-throated Seedeater to the right is a male. But I am not certain whether the bird to the left is an adult female Sporophila albogularis, or an imature male or female.
To top of page