16/10/2007; Mãe-da-lua reserve, Itapajé, Ceará, Brazil. 200 mm f2.8 lens.
Figure 1.
The photo above is the only register of the Hepatic Tanager in RPPN Mãe-da-lua. I don't think that the species regularly visits the reserve, or breeds here. But in wikiaves, there are several recent registers from the coast of Ceará, including Fortaleza (Ricardo Leite, 2009), and also from the interior: Sobral (André Netto, 2009) and Meruoca (André Adeodato, 2009). RPPN Mãe-da-lua lies half-way between Fortaleza and Sobral, and I will certainly watch out for further visits of the Hepatic Tanager in our RPPN.
The distribution map in Ridgely and Tudor 2009, pl. 101/1, may need an extension, since it does not yet include the coast of Ceará. And wikiaves, the site of the Brazilian birdwatchers, becomes everyday more useful. This site was started in december 2008, and counts today with over 260.000 registers (fotos and sounds) of birds in Brazil. A truly unique data source.
To top of page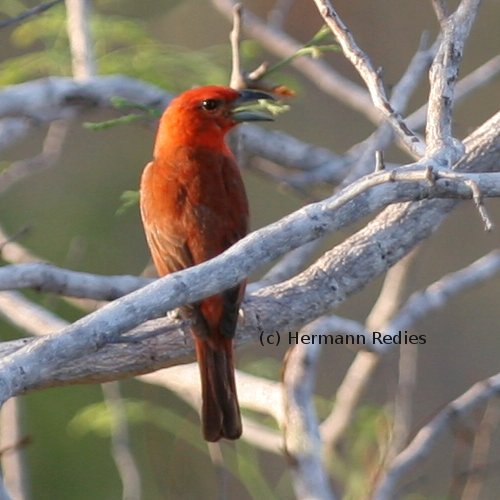 05/11/2010; Barão de Grajaú, Maranhão, Brazil. 300 mm f2.8 lens.
Figure 2. I encountered this Hepatic Tanager in an area of well preserved Cerrado in Maranhão.
To top of page