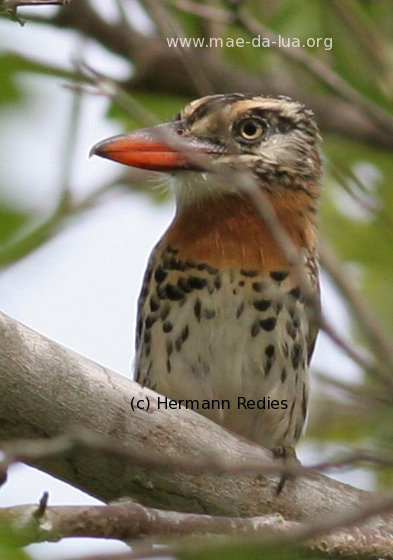 02/06/2005; Fazenda Canaã, Pentecoste, Ceará, Brazil.
200 mm f2.8 lens.
Figure 1. The Spot-backed Puffbird Nystalus maculatus is common in secondary arboreal Caatinga, and seems to adapt easily to habitat degradations. With its striking looks and unusual nesting habits (see below), this bird is well known to the population in the rural areas. The species has good chances for survival, since it is not edible, nor searched after as a cage bird, and not too habitat dependent.
To top of page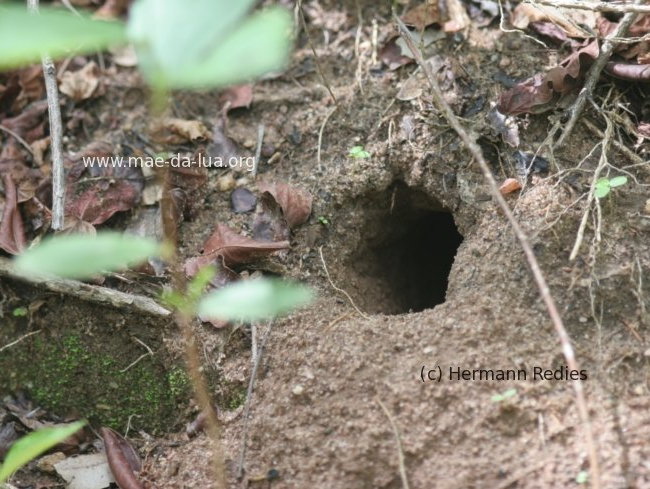 25/01/2008; Mãe-da-lua reserve, Itapajé, Ceará, Brazil. 200 mm f2.8 lens.
Figure 2. For nesting, the Spot-backed Puffbird caves a hole (diameter of hole on photo: ca. 5 cm). At the beginning of the rainy season, one can occasionally see such a hole, freshly digged, at the margin of trails or paths on soft ground, as in the photo above.
To top of page