Local subspecies: Nycticorax nycticorax hoactli, widely distributed in Brazil and neighbouring countries.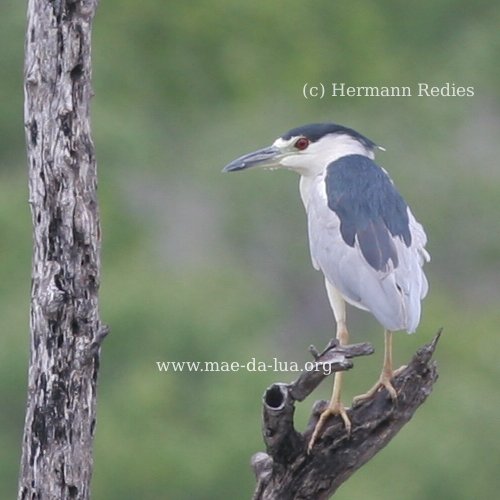 04/02/2010; Parambu, Ceará, Brazil. 300 mm f2.8 lens.
Figure 1. On a walk through a farm in Parambu, I unintentionally flushed a small group of 3-4 Nycticorax nycticorax from their day-time hide in an umbuzeiro tree (Spondias tuberosa, see Nickel Maia 2004). One of them flew to a nearby tree-trunk in the water, and stayed there for half a minute, enough time to make this photo.
The habitat was typical for farm land in this region: a medium-sized water reservoir, surrounded by overgrazed pasture and secondary heavily-degraded Caatinga vegetation, and a few scattered old and relatively unharmed trees, like the umbuzeiro just mentioned, and some aroeira and angico trees.
To top of page