The species is monotypic, and occurs in NE Brazil and in parts of Bolivia and Paraguay. RPPN Mãe-da-lua.
Synonyms: Tinamus boraquira  SPIX 1825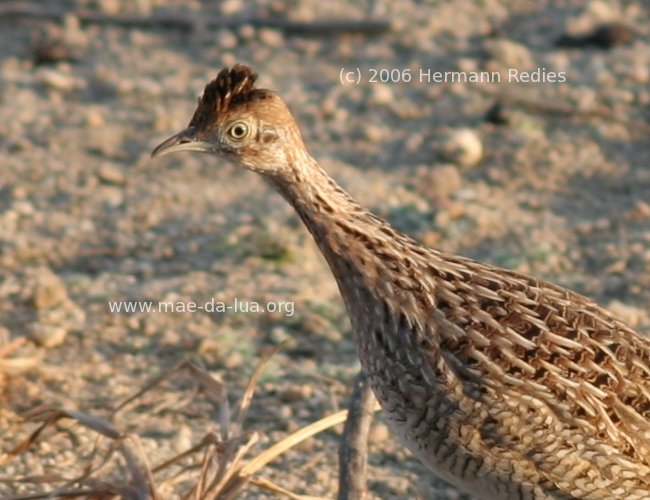 10/09/2005; Fazenda Canaã, Pentecoste, Ceará, Brazil. 200 mm f2.8 lens.
Figure 1. White-bellied Nothuras are shy. They normally hide in the vegetation, and cannot often be seen in the open. The bird on the photo left its cover to drink water at a reservoir. It passed close to my hide, unsuspecting of my presence, and I took several photos at close range.
To top of page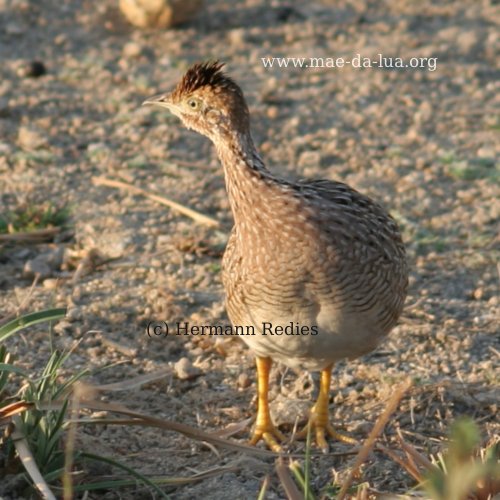 10/09/2005; Fazenda Canaã, Pentecoste, Ceará, Brazil. 200 mm f2.8 lens.
Figure 2. N. boraquira and N. maculosa look similar, and both occur in Ceará. I have identified this bird as N. boraquira because of the yellow legs and the whitish/creamy belly (see Mata et al. 2006).
To top of page
Habitat: The White-bellied Nothura can be found in open and semiopen areas, including man-made habitats like cattle pasture created after deforestation. The species does not seem to favor arboreal Caatinga or the forest of the elevated areas of NE Brazil. In Mãe-da-lua reserve, this bird is quite rare, though I have occasionally seen or heard it close to our water reservoirs.
Conservation: Since Nothura boraquira adapts to man-made grasslands, it does not seem that lack of suitable habitat could become a problem for the survival of the species. However, hunting is a threat, and has decimated or extirpated Nothura boraquira in many regions. On the other hand, the species can be quite common in farms whose owner enforces the environmental legislation, which forbids hunting.
Songs and calls: See here.