Local subspecies: Hirundinea ferruginea bellicosa, distributed in S and E Brazil and neighbouring countries. RPPN Mãe-da-lua.
Synonyms: Todus ferrugineus  GMELIN 1788;  Tyrannus bellicosus  VIEILLOT 1819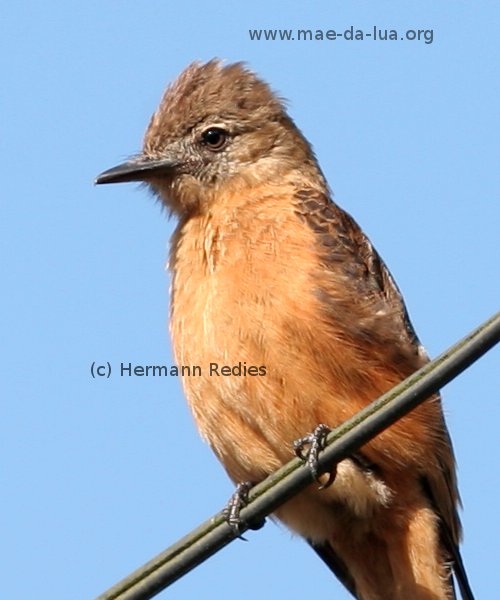 10/12/2009; Garden of Hotel Remanso, Guaramiranga, Ceará, Brazil. 300 mm f2.8 lens.
Figure 1. In Ceará, I noted the Cliff Flycatcher Hirundinea ferruginea in several places with rock formations and cliffs, for example around the hilltops of Mãe-da-lua reserve. But it can also be found close to human habitations, like the bird on the photo, which I photographed on a power line next to a low building in the garden of Hotel Remanso (Guaramiranga-CE). This is in agreement with Ridgely and Tudor 2009, who list "buildings" as one of the possible habitats. There are Cliffs close to the Hotel, so maybe, the bird on the photo frequented both, cliffs and building.
This Hirundinea ferruginea was not shy at all, and I could come quite close with my camera.
To top of page