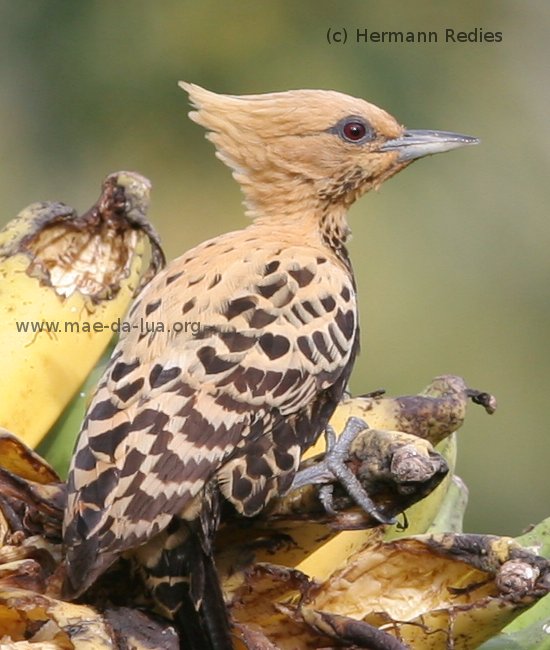 13/01/2010; Garden with banana plants in Guaramiranga, Ceará, Brazil. 300 mm f2.8 lens.
Figure 1. Female Blond-crested Woodpecker Celeus flavescens posing on a bunch of bananas in Guaramiranga, Serra de Baturité, in the garden of a smallholding. I did not know that Blond-crested Woodpeckers eat bananas. In general, Celeus flavescens seems to be able to adapt to a variety of quite different habitats: arboreal Caatinga, humid forest, gardens, and surely many others. See Sick 1997 for more information about alimentation and habitats of this species.
To top of page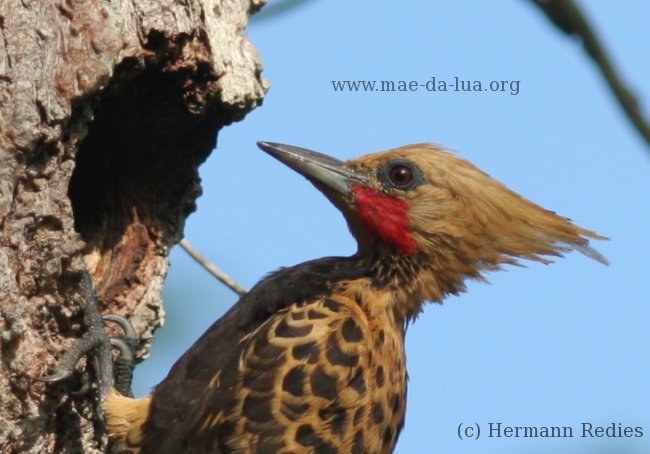 03/04/2006; Fazenda Canaã, Pentecoste, Ceará, Brazil. 200 mm f2.8 lens.
Figure 2. The red malar area shows that this specimen is a male. The bird is in front of the entrance of a cavity where I already saw it, and a female, getting in and out repeatedly. Obviously, the pair is breeding there, and I believe they take turns in the cavity.
To top of page