Site contents
Most parts of the English version of this site were discontinued in 2017. The present page is still in the air, but not regularly maintained.
If you understand Portuguese,
please visit the
Brazilian version
.
in Itapajé, Ceará,
120 km from Fortaleza.
Three hides for watching wildlife,
used in Mãe-da-lua reserve and Fazenda Canaã.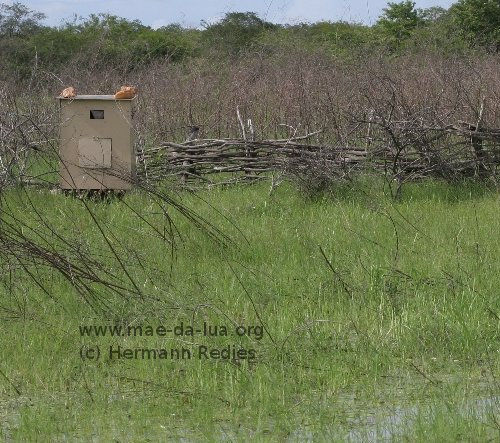 08/04/2006; Fazenda Canaã, Pentecoste, Ceará, Brazil. 200 mm f2.8 lens.
Figure 1. The box in the upper left is one of my mobile hides. Here, it stands on a support platform in 30 cm deep water, in the lake area of Fazenda Canaã. The hide is 1x1m wide, 1.20m high, made mainly with plywood, and can easily be unmounted, and moved to a new location.
To top of page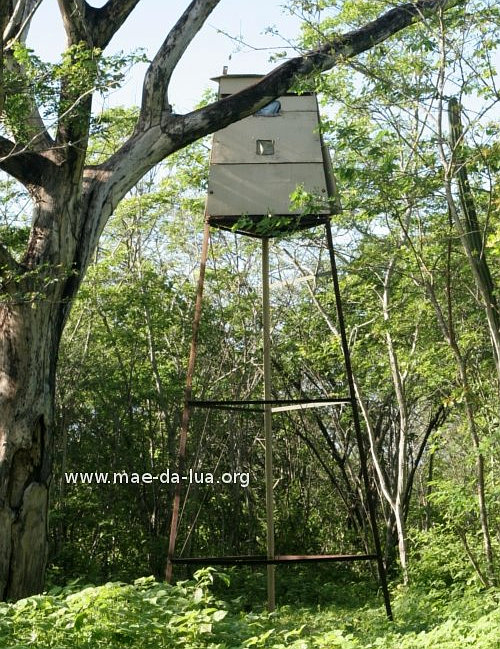 08/04/2006; Fazenda Canaã, Pentecoste, Ceará, Brazil.
Figure 2. This hide is mounted on a steel structure that previously supported a windmill (catavento). The head of an observer sitting in the cabin is about 5m above the ground. Many birds are not too wary of this cabin, I suppose because they are not used to danger from humans in such a setting. I made some of my favorite photographs from this hide.
To top of page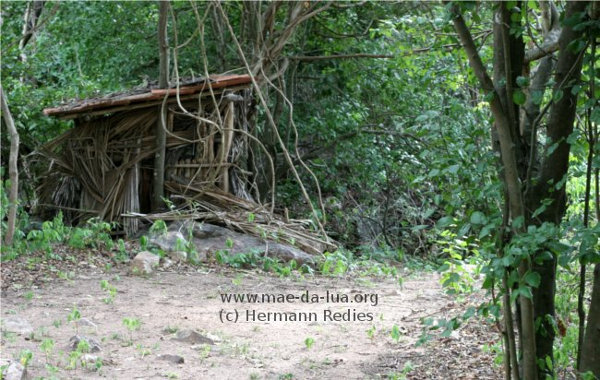 21/02/2010; Mãe-da-lua reserve, Itapajé, Ceará, Brazil.
Figure 3. Hide in the hills of Mãe-da-lua reserve. About 7 m behind the hide (not visible on foto), there is a spring with permanent water, which is visited by lots of animals in the dry season. Many of the pictures shown on this website were made here. The White-browed Guans regularly come really close (2-3 meters distance), and monkeys did even jump onto the roof of the cabin while I was inside. The cabin measures ca. 1.5x1.5 meters, and is made from sticks, with a roof from tiles.
But nothing is perfect, and this hide has a shortcoming too: it stands in a shady environment, and the lack of sunlight can make photography difficult, even if the subject of your interest stands right in front of you. I don't use flashlight, because this would surely disturb the animals. So, I have to wait until some sun reaches the ground around the hide, and the animal moves by itsself into a sunny spot. Sooner or later, this may happen, for example here.
To top of page